A recap of my marathon experience.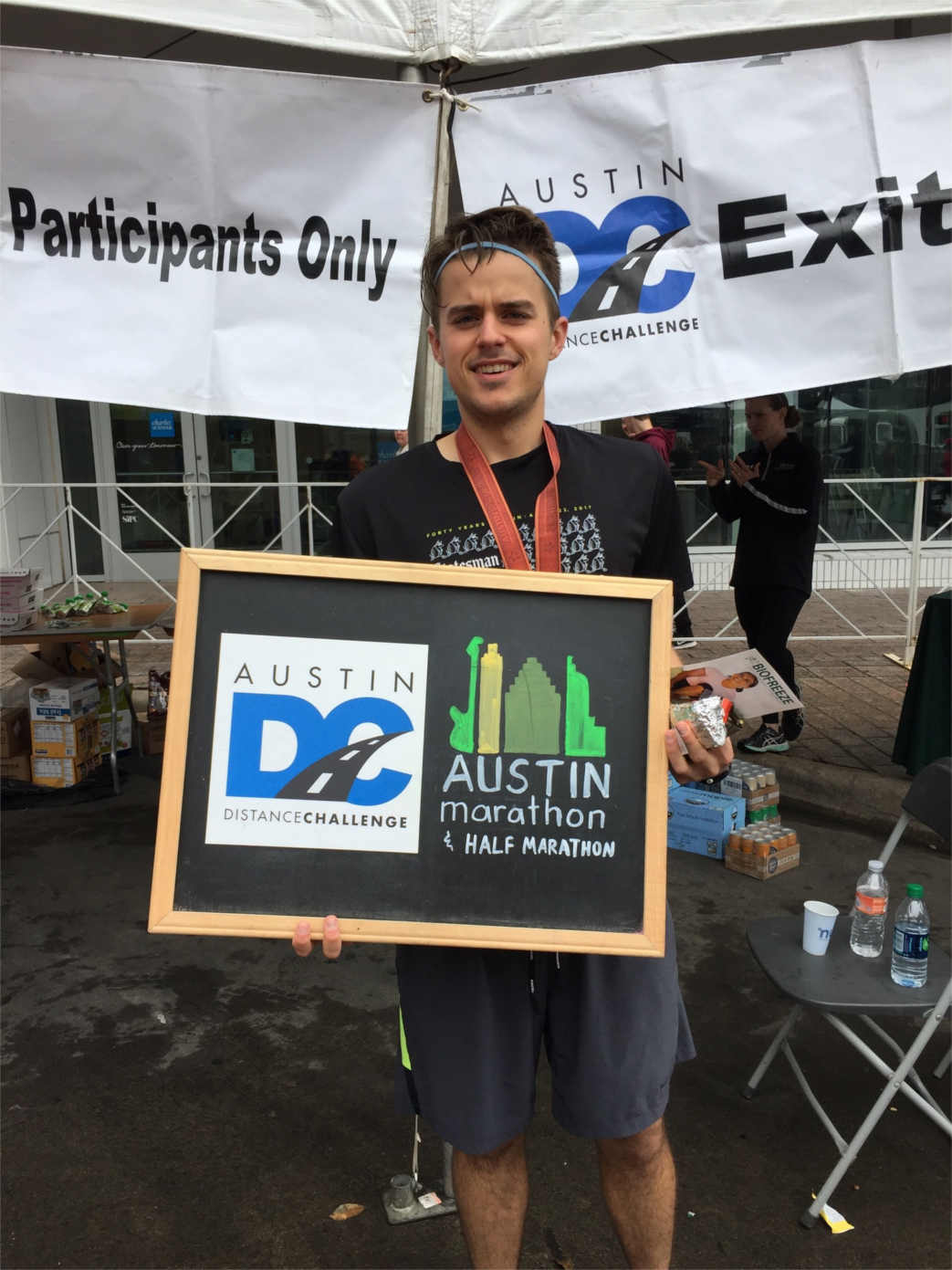 It started back in April 2017. While running the Cap 10k, I experienced the "runner's high" that is so often referenced. Upon finishing, I was ready for the next race. Unfortunately in Texas, April is typically the last month of enjoyable outdoor activity as May brings hotter temperatures transitioning into the Summer months. With no races ahead of me, I started to do some research. I stumbled upon the Austin Runner's Club Distance Challenge - a series of 5 races designed to get you in at least half, if not full, marathon shape. The first four distances would be comprised of 8K, 10 mile, and two half marathons with the option to do the Austin Half/Full Marathon at the end. Initially, I thought I'd do the half track, a full marathon seemed crazy. As time went on, the challenge of a full marathon kept eating at me. Eventually I gave in to temptation, signing up for the full marathon, in hopes of testing my personal limits for endurance.
The first run was the 80s 8K. As a longtime fan of 80s music, this was a great run to kick off the series. I really enjoy this distance as it really requires a balance of speed and endurance. At this point, I was still running pretty casually. With a month in between races and the 10 mile distance so close to a half marathon, I felt like I'd naturally progress and run longer distances.
As the Run For The Water approached, I still hadn't adhered to an established running plan. I would try to run about half of my target distance 3 days during the week with a longer, slower run on Sunday. I remember having a hard time hitting double digit miles for a while, a majority of this barrier being mental. I would regularly do 8 miles, but 10 felt insurmountable. With this fear in mind I felt it was important to actually hit 10 miles before I ran the race. I vividly remember about 2 weeks from the race hitting 10 miles somewhat on accident as a result of getting a bit turned around on my route. Whatever the consequences, it felt great to push through that wall and hit double digits. Raceday came and it was rather warm and extremely humid. I failed to look at the elevation maps before the race and my strategy was non-existent. As a result, brutal hills came as a surprise around the 6 mile mark. I tend to get competitive on the course and push to keep up or pass runners, so I had been increasingly pushing my pace without worrying about if I had enough in the tank to finish. I found myself understanding the phrase: "It's not a sprint, it's a marathon." I slowed in the last few miles and finished exhausted. I knew going forward I couldn't just wing it anymore, I'd need to take time to physically and mentally prepare for my races.
For whatever reason, the wake-up call of the 10 miler not only convinced me to get serious about training, but it was here that I decided to commit to the full marathon. I researched a few training programs and settled on one through my Garmin watch as it roughly combined some of the popular programs while introducing interval and threshold training, which I thought would aid my performance.
The Decker Challenge carries a daunting reputation. It's a hilly course and the weather has been historically miserable. While Austin, TX isn't the hilliest place you'll find, I tried to make sure my training runs took advantage of the uphill climbs rather than downhill breathers. Additionally, I was having some foot pain as I had begun to really increase mileage and distance. You can really go down a rabbithole trying to determine your problem and which of the thousand shoes (or combined soles) available might fix it. Generally, the shoe I had been using was meant more for shorter distances and additionally had a rounded sole. I switched to a shoe with a bit more heel support and immediately found relief. This was after reading Born To Run, the book that popularized minimalist shoes modeled after a running culture in Mexico. Despite what the book promoted, I found the added support was beneficial to my comfort. While training for these longer distances, I constantly found myself at odds with my body, wondering who was right. I never really felt as though I was putting my body in jeopardy, but I guess it's the temptation to give in that magnifies each little problem you encounter.
The weather turned out perfect for the Decker Challenge. Clear, blue skies and a bit chilly made for great running conditions. Despite being so nervous before this race, I thought it went really well for my first half marathon. It was about what I had expected and prepared for. I left the race feeling confident about the marathon and excited for the 3M Half Marathon with hopes of getting a really good time - this race is marketed as "net downhill" meaning the overall change in elevation is negative. Especially with the holidays and travel coming up, the Decker Challenge gave me some reassurance that my training was working.
The holidays consisted of some brutally cold runs, the lowest being about 12° F, which consisted of frozen nostrils and eyelashes. Texas has really pampered me. Despite the cold, I got most of my runs in and generally stayed on track. The hardest part of the training over the holidays was abstaining from being with friends and family or feeling like a stick in the mud. Realistically, I got nothing but support from friends and family and I can't thank them enough for that.
My experience at the 3M Half was similar to that at the Run For The Water. It wasn't necessarily warm, but it was really humid. With the marathon looming, this race day was actually supposed to be a training day where I'd hit 19 miles. I ran two miles before the race to warm up, but didn't want to gas out - I was chasing a PR. As the race set off, I felt I was not alone in that we all started off pretty fast and stalled around the 10 mile mark. The humidity started to wear on us and the net downhill seemed to be a farce. I did end up setting a PR, but I was spent at the end, 2 more miles was not gonna happen. I was a bit discouraged and becoming progessively more worried about the marathon. I chalked it up to pushing a pace in the half that I hadn't done in my longer runs to date and tried to look forward to the challenge ahead.
With friends in town and a bachelor party back-to-back weekends in between me and the Austin Marathon, I knew that my training might take a toll. I had read a bit about "the wall" (the point in the race where you really question whether this is what you want to do) and conflicting articles on how far you should run before raceday. I was also approaching "tapering" in which you slowly decrease mileage a few weeks before your race in order to recover. I accomplished a 19 mile run and generally felt pretty good after it. I was OK leaving 7 miles or so of surprises for the marathon but was hoping to hit 20-21 miles before the race to see if I could find my "wall". With friends in town I got a Franklin fueled run in - turns out that brisket, Wonder Bread, and beer aren't the best fuel for a long run. Per my schedule, this was supposed to be my longest run. The reality of the marathon set in. Tying to be optimistic I looked forward to tapering, hoping that a healthy body would be the trick to a successful marathon.
As the marathon neared closer, I actually got some confidence back. My body was feeling better than it had throughout all of training and runs were getting easier (not only by design, but also intrinsically). I was excited to have my parents there to support and to show them around Austin now that I was more familiar with the city.
I felt good on raceday. I had specific finish times in mind, but on raceday I found myself really just wanting to try and enjoy the experience. I had ran roughly 1,000 miles in training and it was time to show what it was worth. I had studied the course and having run much of it during training, I knew when to fall back or let my legs go. I tried to start off slow, but the excitement and adrenaline encourages you to push it a bit. Miles 1-3 were slightly uphill and let me use the elevation to slow myself down. Essentially an out and back, miles 4-6 were downhill and came a little quicker. I pressed a bit through to mile 10 where the hills began. I slowed up a bit but I was doing well - ahead of my target pace. Coming into the half/full split, I was still feeling good knowing there was some light uphill into a slight downhill. Around 18 miles I had slowed down but found a second wind that put me back on track into the 20th mile. This was the beginning of the end. The last 5-6 miles were rough. Every step ricocheted through my body. As my pace waned, it became harder and harder to not just stop and reset. I knew that if I stopped it would be that much harder to get going again, if not impossible. The pacers I had hoped to finish in front of passed me and it seemed as though I was the only one that was struggling. The wild part is how quickly your mentality can shift. Approaching the race and during the bulk of it you have this pride that you've put in all this hard work and regardless of how hard things might get, you have the satisfaction of being done at the end. In those last few miles, none of that seems to matter. Even finishing doesn't sound fun or rewarding. You just want the whole experience to end as soon as possible. I tried to just keep going, "don't worry about pace, don't worry about the people around you, just keep moving." Seeing the finish line I tried to spend all I had left. Finishing, all the pounding from the last 26 miles compounds itself - I felt awful. Surmounting the pain was emotion - I had just completed a marathon. A goal I set roughly 5 months prior had come to fruition. The next hour or so was a juxtaposition of pain and elation.
Today, I'm feeling a bit better but still hobbling around. At this point it's hard to imagine running any distance, let alone another marathon. I have to be honest, I'm not sure another marathon is appealing to me. I enjoy the shorter distances much more and would maybe strive for a 1:30 half marathon before springing for another full. What I will carry on is running itself. There's something about running that can't quite be explained unless you find yourself in the headspace that it provides. I theorize that because it demands so much physically, it really leaves your mind to focus on two things: the mental aspect of running itself and potentially one other thought. In this age of distraction, it's hard to hone in on specific thoughts. For me, that's something that running has provided that I haven't been able to find elsewhere.